Traveling alone can be an amazing and mind-expanding experience. It can help you to grow as a woman and as an individual and leave you will a profound sense of your own inner power, and well as connecting you more firmly to the world around you. But traveling alone can be challenging at times. If you, as a solo female traveler, are considering a visit to Indonesia, here are some tips to help you prepare for your adventure:
What To Pack
While you may think of Indonesia as sunny and hot, it is important to remember that the Indonesian islands have a tropical climate – with fairly consistent temperatures in the mid-20s Celsius throughout the year but also a distinct wet season as well as a dry one. Mountain areas can also have temperatures much cooler than those on the coast. What exactly you should pack in terms of clothing will depend on exactly where and when you are going. Pack as light as possible – but prepare for a range of possibilities with items that can be layered up.
While light, breathable clothing is often suitable for the climate, it is worthwhile remembering as a solo female traveler that modesty will be appreciated, and necessary in certain, more traditional or conservatively Muslim parts of the islands. Bring beach attire if you wish, but also bring items to cover up your shoulders, chest and legs.
Female travelers should also note that they may wish to bring their own sanitary protection. Pads are available locally, but if you prefer tampons it is best to bring these along.
---
Safety Tips For a Solo Female Traveler
Solo travel in Indonesia is generally considered to be safe, though of course, as is the case everywhere, it is important to stay alert to your surroundings and to keep your wits about you. Do not drink too much, or place yourself in situations that you do not feel comfortable in. Generally, staying safe is a question of common sense.
---
Getting Around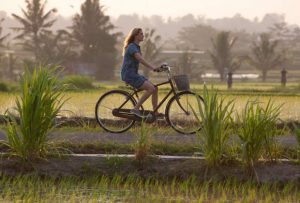 Hiring your own car or motorbike is a popular option for getting around in Indonesia, but if you do not feel confident or comfortable driving yourself, consider getting a taxi (in big cities) or hiring a car and driver for a day. (Read reviews of drivers and go with a reputable one – you could also consider joining forces with fellow solo female travelers to get a better deal and to feel safer). Public transport options – buses and trains – may also be options and always a good alternative to travel at low budget. Bus Ticket Reservation can be obtain thru Bus Terminal or Agent. These can be crowded, and there can be theft, so keep your belongings close and be alert at all times.
Meeting Fellow Travelers & Locals
Hostels and other accommodation can offer great places to meet fellow travelers. One of the perks of traveling solo is that you can more easily strike up conversations and perhaps even make new friends. Make sure you also make some effort to get to know locals. Solo female travelers might do well to learn some of the local lingo and enjoy a home-stay or couch surfing experience to get to know some local people and get to grips with the local culture.
Some Appealing Destinations in Indonesia for Solo Female Travelers:
Bandung, West Java
Popular for excursions from Jakarta, Bandung is situated in stunning Highland scenery. It is extremely welcoming for solo travellers and definitely geared up for guests. It is cool here, and easy to get around. Be sure to check out the The White Crater and Patenggang Lake area to the south – a well known natural beauty spot, as well as all the attractions in the city itself.
Yogyakarta, Central Java
This city's name means 'fit to prosper' and indeed it has, becoming one of the most important tourist destinations in Indonesia. The city has a long and interesting history to explore. Tourists flock here to visit the city itself, Mount Merapi, and nine amazing geo-heritage sites in the vicinity. In this popular area, even when travelling alone you will be surrounded by fellow travellers, especially as you visit popular sites nearby – in Yogyakarta itself but also at Borobudur, where you will discover an amazing Buddhist temple, and the Hindu temples of Prambanan.
Solo/ Suryakarta, Java
What could be better for a solo female traveler than a place called 'Solo'! Surakarta, now called Solo, is the twin sister of Yogyakarta and with it, is heir to the Mataram kingdom that split in 1755. This city, however, has managed to retain much of its Javanese character and it is far less touristy than its twin. A savvy solo traveler will usually be perfectly safe here, surrounded by friendly Javanese locals. Solo area offer very good for Cycling Tour and very safe for Solo Traveler.
Ubud, Bali
Ubud is the cultural hub of Bali and is an enchanting place. If there is one place on Bali that we recommend that you linger if you are traveling alone then this is it. Set amid rice paddies and terraces, the town is known for its culture, art and crafts. Tradition is vitally important here and you will encounter a range of interesting cultural events and festivals throughout the year. This is also a spiritual centre for the island and many people come here to experience traditional and imported healing therapies and wellness techniques.
Toraja Land, South Sulawesi
Tana Toraja or Toraja Land offer the most unique culture in Indonesia. Located in the South Sulawesi province, 328 KM from Makassar City the capital of South Sulawesi with over 800m above the sea level. Good temperature, friendly people with very excited cultural tours is a good match for Female Solo Traveler.
As a solo female traveler, there are precautions you should take. But don't let traveling alone hold you back from the Indonesian adventure of a lifetime.